News:
22.06.16:
Myka was at a show in DSSK in Denmark and got a VG. She is turning into a wonderful and very clever girl 7,5 kg heavy and around 36,5 cm tall. She is so so eager to work and train and a very loving companion 🙂
15.02.16:
A new family member joined us in September 2015. Myka (Milou) is a tricoloured Shetland Sheepdog born 7.7.2015 in Jutland. I plan a larger update of these pages soon but here is a picture of our wonderful new girl from she was 4 months old.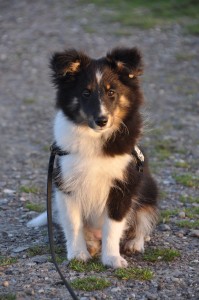 A the moment she is 7 kg and 35 cm high and has a complete scissor bite. She is so willing to learn and cooperate with me. For now we have taken Foundation 1+2 at Johanna A. where we click, shape and reward 🙂 It's perfect! Soon puppy agility training will start along with obedience basic training.
Later this year she will be shown, have HD/AD status taken and go to a mental description for dogs 🙂